Why Booking an Annual Termite Inspection Should Be on Your 2023 Resolution List?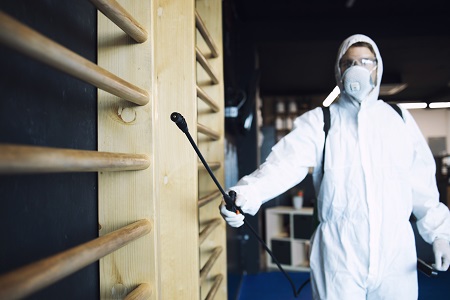 Whether you are a new homeowner or have been living in your own house for a long time, termite prevention for your house is of paramount importance. The little buggers might seem insignificant as individuals but a colony of termites could easily cause severe structural damage to a house.
Annual termite inspections will help with the early detection of termites and they are also the first step in effective termite removal and prevention. Here are some points on why you should start your year by scheduling your annual termite inspection.
Why Are Annual Termite Inspections Necessary?
Our home is the largest investment for most of us and we need to put conscious effort into maintaining it in top shape. Annual termite inspection helps in more ways than one.
1. Termites Are Hard to Spot
The major reason for scheduling annual termite inspections even when you do not suspect a termite infestation in your house is because of the sneaky nature of these creatures. Your house might be suffering from a termite problem for a whole year but you still might not have spotted the termites in your house. Even the termite damage starts to become apparent only after 3-4 years.
But this is not the case with a professionally trained termite inspector. This person is trained to look in all the right places and hence can spot an infestation with even the slightest of clues.
Also Read: Termite Control Basics for New Homeowners
2. A Regular Termite Inspection Can Detect the Problem Early
Termites eat non-stop and they never sleep. Also, they proliferate fast thus spreading the infestation to several places in the house after some time.
These reasons should be enough to drive home the importance of early detection of a termite infestation. You just cannot stay idle until the signs of termite damage start to show.
With regularly scheduled termite inspections, you will find the infestation in the starting stage and can get rid of it early. This greatly reduces the chances of it spreading to other places.
3. The Cost Factor
It is heartbreaking to see your home being eaten away by these little pests, but there is also the problem of repair costs. The average repair bill for termite damage is $10,000 but it can go up depending on the extent of the damage.
Finding the infestation early or preventing it can help avoid your savings from going down the drain.
4. Your Insurance Might Not Save You from Termite Problems
You might already know that most insurance companies do not cover repair due to termite damage. You are left on your own in this case and repairs for severe termite damages can turn out to be very costly.
5. Annual Termite Inspections Can Fetch Your House a Good Market Price
No one wants to buy a termite-infested home. But almost all homes in the United States now have a termite problem. So, what is the deciding factor?
A house might have some termite activity but it should be managed properly. Records of the annual termite inspections conducted along with the possible termite prevention treatments provide the buyer proof that the house has been taken care of properly.
While selling your house, usually you have to schedule a termite inspection and provide a report about current termite activity in the house. If termite activity is spotted, you might be forced to reduce the price of your house.
6. Prevention Is the Best Solution
Annual termite inspections can assure that there is no termite activity to worry about. More importantly, any signs of early infestation can be spotted and the necessary treatment is done.
Reports by a professional termite inspector will give you peace of mind about the status of your house. With the right prevention systems in place, you don't have to worry about new infestations till the next inspection.
Hi-Tech Termite Control
Consider annual termite inspection to be a regular health check-up for your house. Schedule inspection dates with us here.