When Should You Be Worried About a Termite Infestation?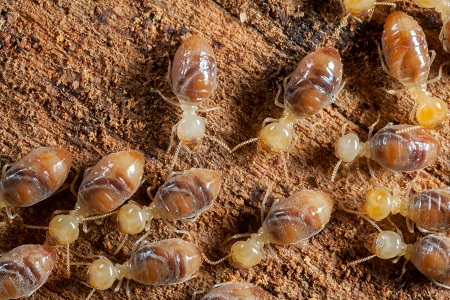 Termites eat 24/7 but they are masters at hiding. Most of the time, even with severe infestations, the house owners might not spot even a single termite. So, when exactly should a house owner start to worry about termite infestation? Read our blog to get the answer to this question.
The Termite Season
Usually, people would advise you to look out for termites during the warmer seasons like spring and summer. The termites are indeed most active during these months but that does not mean that they rest during the cooler months. Termites are active throughout the year and might be munching on your home as you read this blog!
Termites are cold-blooded creatures and thus need a certain degree of warmth to survive. They make it a point to hide well by creating safe homes for themselves. For example, subterranean termites live underground where they maintain a temperature that is ideal for their survival. Drywood termites on the other hand, mostly live inside the wood that they consume.
This makes them almost invisible to our eyes, especially during the cooler months. But as the weather gets hotter, the termites will start to move to form new colonies. The termite swarmers would travel from one place to another and when they find a suitable place, they settle down to create a new colony.
Also Read: Can You Permanently Get Rid of Termites?
How to Identify Termite Swarmers?
Different species of termites tend to follow different swarming patterns. Almost all termites swarm after a rain shower since damp soil is ideal for their nest-making process. The presence of humidity also increases their survival rate. You might notice them swarming outside but sometimes they might also be found swarming indoors.
Subterranean termites usually swarm in the spring while dampwood termites swarm in the summer. Drywood termites swarm in late summer or early fall.
Drywood termites swarm in small groups of about 100 termites but subterranean termites swarm in huge groups. Dampwood termites mostly settle outside homes in gardens and similar places since they prefer wood with high moisture content.
If you spot termite swarmers, then it is a sign of a well-developed termite colony in your house or neighborhood. Hence, if you spot termite swarmers, it is time to schedule a termite inspection for your property.
Also Read: What Happens When You Leave a Termite Infestation Untreated?
Signs of Termite Infestation
As we mentioned before, termites are hard workers that are active throughout the year. Hence, swarming is not the only sign of a termite infestation. You need to actively look out for termite infestation in your home. Here are some other signs of termite infestation that you shouldn't ignore.
Mud tubes
Bubbling or cracked paint
Hollow or sunken wood surfaces
Discarded wings of termites
Windows and doors not closing properly
If you notice even one of these signs, then it is time for you to call in a professional termite inspector. The expert will know the places to inspect and will also determine the type and severity of termite infestation.
If there is a termite infestation present, the termite inspector will help identify it and will suggest suitable termite control treatments. If there is no termite infestation found, then it is best to get termite prevention done which will protect your home from future termite attacks.
If you spot live termites, which is extremely rare, then know that your home has a severe termite infestation. Contact the termite company immediately and let the expert choose the best termite treatment method to get rid of the infestation.
HiTech Termite Control
Termite infestation when identified early can be effectively got rid of using the right termite treatment methods. HiTech Termite Control is the ally you need in your fight against termites. Contact us here for a free estimate.