Termite Tenting: 7 Must-Know Facts for Effective Termite Control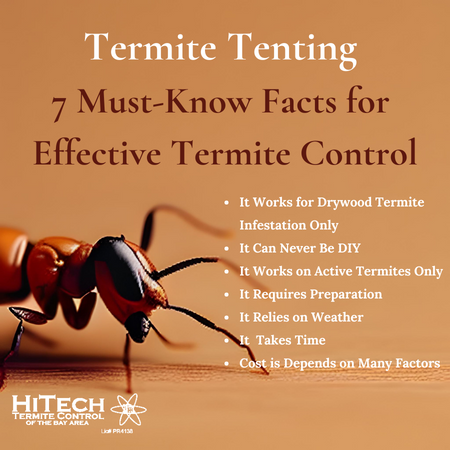 Termite tenting is often seen as the ultimate solution to get rid of a severe drywood termite infestation. It is one of the most effective termite treatments available to control termite infestations. Here are some facts that you should know about termite tenting.
Termite Tenting Works for Drywood Termite Infestation Only
Drywood termites tend to live in the wood they feast on. Hence, they are often found in places like floorboards, walls, furniture, etc. When termite tenting is done, the fumigants are pumped through the house so that it enters every crevice and gets rid of the termites.
On the other hand, subterranean termites live underground. The gases from the termite tenting process cannot reach below the ground thus making the treatment ineffective for getting rid of a subterranean termite infestation.
Also Read: Subterranean Termites and the Problems They Cause
Termite tenting involves raising a tent that covers the whole area to be treated and then pumping fumigants into the tent. These fumigants are dangerous to human beings, plants, and pets and hence the tents are erected so that the gases cannot escape.
The termite control professionals are trained to carry out this technique and they are aware of all the safety measures to follow.
Hence, termite tenting can never be a do-it-yourself activity. Trying it without expert guidance will put you and your loved ones in danger. Always contact a professional termite company and get the tenting done.
Termite Tenting Works on Active Termites Only
As mentioned earlier, termite tenting is considered to be one of the most effective termite treatments but even tenting cannot guarantee safety from future termite infestations.
Hence, after termite tenting, you need to make a conscious effort to prevent termites from infesting your home again. Also, make sure to schedule regular termite inspections to identify infestations in the early stages, if present.
Termite Tenting Requires Preparation
The fumigants can be harmful to living things. Hence, you must prepare the house for tenting. It is a long process but when it is for our safety, being thorough is vital.
First, you and your family will have to find a place to stay until the fumigation is complete. The fumigants will also be harmful to pets and plants therefore make sure you find a temporary shelter for them.
Clear your house of food items, dining items, bed linens, and more. Disconnect the gas and unplug all appliances.
To know more in detail about how you should prep your house for termite tenting, read our blog at What to Do Before and After a Fumigation Termite Treatment.
Also Read: When to Choose Fumigation over Other Termite Treatments?
Termite Tenting Relies on Weather
The tent is the most vital part of the process since it prevents the gases from escaping outside. Windy or rainy conditions can damage the tent's integrity and cause the fumigants to escape.
Termite Tenting Takes Time
Termite tenting is an extensive process and the exact time required to complete it depends on various factors. But usually, termite tenting can take up any duration from 24 hours to one week. You won't be allowed in a house that is freshly fumigated since traces of fumigants might be lingering. The termite control experts will inform you when it is safe to enter the house.
The Cost of Termite Tenting Depends on Many Factors
The cost of termite tenting varies for different situations. For example, if the house to be treated is big, the time for tenting increases thus increasing the cost as well. It also depends on the severity of the termite infestation. It would be better to discuss the cost with the termite control specialist.
HiTech Termite Control
Termite tenting is an excellent method to get rid of termites but make sure you get the help of a licensed termite company to do the process. We at HiTech Termite Control have trained and certified experts who can safely perform termite tenting for your property. Want to know more? Visit our website here.