What Is the Most Effective Treatment for Termites?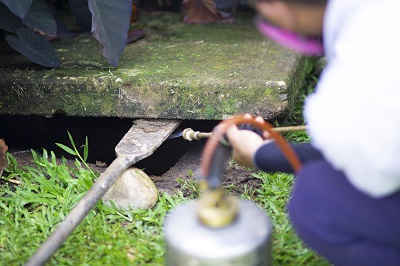 Termites may be deceptively small but they can inflict serious damage on your home and furniture. They can affect the integrity of the structure consequently also affecting the resale value. No one likes to spend hundreds or thousands of dollars on termite damage repair every year when they can simply eradicate the problem using termite control methods. It is no secret that there are a lot of termite treatments available, but there is always a debate on picking the most effective one. Here we will discuss some popular termite control methods and the details involved so that you can have your pick.
1. Liquid Termite Treatments
Liquid treatment for termite infestation is a practice that has been in use for decades. It is one of the most common and effective methods known for termite control. This method involves creating a chemical infused soil barrier by digging a tunnel around the structure that needs protection from termites and then filling it with treated soil. The chemical used is termiticide which repels the termites that come in contact with it.
As a result of this, termites cannot enter the structure from the outside and the ones inside also die since they cannot return to the soil for supplemental moisture. Nowadays the chemicals used for the barrier, instead of being repellent, are designed to kill the termites immediately after they come in contact with the treated soil.
2. Baiting Techniques
In this method, the areas of maximum termite activity (like entry points) and areas where mud tubes are present are noted. Then, termite baits are placed in these stations which are constantly monitored. These baits will consist of cellulose-based food combined with chemicals that are lethal for termites.
But these chemicals, unlike the liquid treatments, do not immediately act, but affect the termites that ingest them first. Then when the affected termite returns to its colony, it infects the other termites present in the nest thus eradicating the termite colony fully in the long run. Sometimes, the experts would suggest employing baiting systems along with liquid treatments for increased effectiveness.
3. Spot Treatment
Sometimes, when the termite infestation is at the starting stage or manageable phase, spot treatments are recommended. The places which are infected are identified and then various treatments like surface sprays, borate injections, etc. are done to get rid of the termites. After this, termite damage repair is done to restore the structure.
But these spot treatments cannot be very effective when the infestation is severe and there are termites foraging your home from all sides.
4. Fumigation Treatment
If the termite infestation at your home is left unchecked for quite some time, then there is no better option than fumigation. This termite control process involves treating the entire structure that is infested.
First, the structure is fully covered using a fumigation tent and then gas is pumped into it until it reaches every corner of the structure. The effect on the termites is instant and this can also prevent further infestation. But it will require you (along with any plants you might have)to evacuate the structure and stay out until the gas clears.
Hi Tech Termite Control
Though all these methods are effective, it would take a professional to evaluate the type of infestation and the extent of damage to recommend a suitable termite control method. We at Hi Tech Termite Control can provide you with a free estimate and three-year warranty with several treatment options. If you notice any signs of termite infestation in your house, contact us immediately 888-322-8889.