Suspect Termite Activity in Your Home? Never Skip Checking These Places!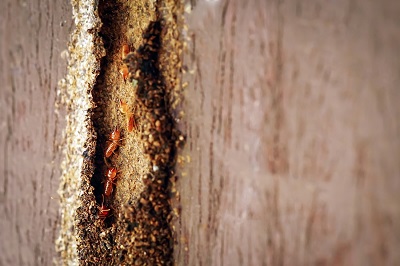 A regular termite inspection is a must and there is no counter argument to this fact. A regular termite inspection will help the homeowner be in peace without having to worry about an impending disaster of termite infestation. Even if termite activity is spotted by the termite control professionals, they would suggest appropriate methods of termite treatment. But it is also important to keep an eye out for signs of termite activity in your home. Prevention being better than cure applies to termite control too.
Signs of Termite Infestation
Termites are creatures that aren't very easy to spot. But this makes them more dangerous since they could be silently eating away your home without you realizing it. Hence, make up your mind to actively look for termite infestation signs in your home. Here are some of the tell-tale signs of termite activity that you should be looking out for.
This is one of the most obvious signs of termite activity. When you spot these tubes, it is a cue for you to immediately contact a termite control professional. Subterranean termites usually use mud tubes as the path for entry into your house.
Most people tend to break and clean out the mud tubes thinking that this will help clear out the termites from their homes. Finding mud tubes in your house also means that there is a termite nest nearby. Unless you get rid of the nest, the termite activity in your house will continue. When you find mud tubes, do not disturb them and contact a termite control professional.
You are looking at your favourite furniture and you are noting intricate patterns that weren't already there. Look closely since this could be a sign of termite activity. Termites eat through the wood and this weakens the surface.
If you are noticing patterns of wood damage or small holes in the wood surface, then tap the area around. You might hear a hollow sound or in extreme cases, the outer layer of the wood may break. This will be the right time to place a call to the termite control professional.
Termites develop wings when they want to find a place for their new nest. Once they find the ideal place and settle down, they drop those wings. So, if you find discarded termite wings all-around your place, then there is a high possibility that your home has a termite infestation.
Also, look out for termite swarms since it is a sign of an existing colony nearby or a future colony developing. Termite swarms are common during warm and humid days. Termites can fly over several hundreds of metres and so it always helps to be cautious.
The first thought we might have when we come across a stuck window or door is to oil it well. But this might be a sign of termite activity. Termites access the wood from below the floor or outside the home making them hard to spot immediately. This can cause the wood to disfigure which in turn leads to stuck windows and doors.
Check the windows and doors for small holes or hollowness. Also, check the place around the windows and doors for mud tubes and wood dust. If you see anything suspicious, make sure to contact the termite control company.
Termite mounds might not be easy to spot unless they are in an open space. Drywood termites live and build colonies within the wood while subterranean termites live underground.
Check for termite mounds near discarded wood or tree trunks. Whatever be the type or size of the termite mound, it is still a great danger to your house. It is important to let a professional termite control company take care of it immediately.
Places to Check for Termite Activity
You have now spotted some signs of termite activity in your house. The next step would be a termite inspection. A professional termite inspector would know the right places to look at. Here are some of the places that you should never miss when looking to confirm termite activity in your house.
Attics: It is no big news that termites love dark and crowded places. Also, attics are often framed with wood and this makes a perfect treat for the termites.
Yard: This is a place that we often tend to ignore while cleaning. Accumulated woodpiles and chips can easily attract termites.
Basement: Dark and dingy? Ideal place for the termites to chill while staying undetected. The basement would also provide easy access to the sub-flooring.
Deck: The wood used in the deck is usually not pressure-treated or painted well, making it perfect for the termites to feast on.
Crawl space: Without the protection of flooring, termites gain easy access to these spaces.
A termite control professional will never miss out on these places and the inspection would be done thoroughly. If there is termite activity found, based on the area of infestation and the extent of damage, proper termite treatment would be recommended.
Hi Tech Termite
Do not panic if you find signs of termite activity in your home. We can help you safeguard your house from these little unwanted guests. Contact us and we will sort it out for you. https://www.hitechtermite.com/