What Happens When You Leave a Termite Infestation Untreated?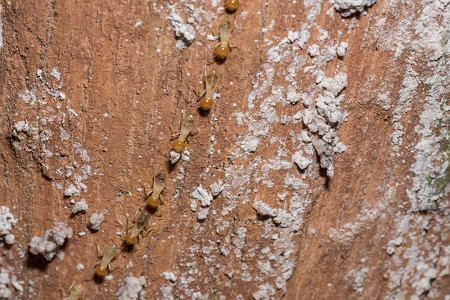 Termite infestation when left unchecked can spread throughout the property and cause extensive damage. A house that suffers severe structural damage might eventually become dangerous to live in. There are cases in which the whole house had to be demolished because of termite infestation. Hence, if you suspect termite infestation on your property, then it is best to immediately consult a termite control company.
Ways Termite Infestation Could Affect Your Property
When it comes to termite infestation, most of us would immediately imagine the damage done to the property. But there is more to lose when the infestation is left untreated.
Structural Damage
Termites in furniture are a headache but termites in foundations and beams are a whole other problem.
Subterranean termites tend to build their colonies under the ground thus ravaging the foundation, sub-flooring, and more. They like dark and damp places thus conveniently infesting the inaccessible areas of the home.
These termites might be silently eating away the vital parts of your home. Severe structural damage can make the structure weaker and sometimes even unsuitable for living.
It Can Extract Heavy Expenses from Your Savings
Termite damage repair is not cheap. If the termite infestation is not treated in the early stages and it progresses to the level of the house sustaining structural damage, then termite damage repair is going to cost you a lot.
House owners in the U.S. spend billions of dollars on termite damage repair annually. This is not an ideal way to spend your savings and thus it is necessary to make it a point to schedule regular termite inspections.
The Insurance Problem
Though you have a house owner's insurance policy, you might have to pay for the damage repair yourself. The majority of these insurance policies do not cover termite damage repair since termite infestation is greatly common and can cost a lot.
While taking the house owner's insurance policy, it is better to read the fine print and clarify the clauses that mention coverage for damage repair due to pests.
Termite Damage Can Push You Back in the Real Estate Market
Severe termite infestation is hard to get rid of and when untreated can render the whole house uninhabitable. Thus, you can understand people's hesitation when it comes to purchasing a termite-ridden property.
A termite inspection is mandatory before selling the house and the sellers are required to cover the expenses for the termite inspection and termite control before selling the house.
When you leave the infestation untreated and want to sell your home, the bid will be very low or you will be burdened with a heavy cost for termite control at the last minute.
In the Worst-Case Scenario, It Might Also Lead to Legal Expenses
If you do not have the money for termite damage repair and sell a house with termite infestation "as is" to the buyer, you might need to pay some legal fee to the attorney. The better way to avoid this fee is to have a termite clearance for your home.
The legal fee might also be needed when you hire a legal practitioner to prove that the insurance company is responsible for the damage. For example, moisture from the burst pipe might be argued as the cause of termite infestation.
With Termites, Nothing Is Safe in the Home
Termites predominantly eat wood but can feast on anything with cellulose. They also take extensive measures to reach the food.
Therefore, don't be surprised when you find termites in your cabinets, floors, stairs, books, wallpaper, and sometimes even clothes. Call a professional termite control company at the first sign of termite infestation on your property.
Also Read: Fumigation vs No Tent Termite Control - What Is the Difference?
HiTech Termite Control
Do not let your savings go down the drain because of these little pests! Call us or visit our website to book a free termite inspection. We offer all kinds of termite control treatments like fumigation termite control and non-fumigation termite control. Know more about us here.