Subterranean Termites and the Problems They Cause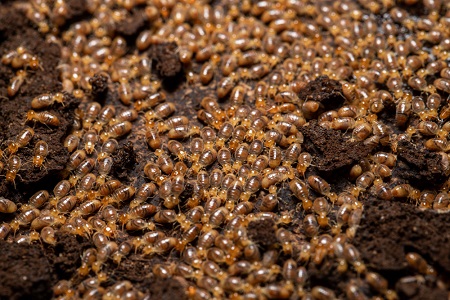 Did you know that every year about 600,000 structures in the United States are found to have termite damage? This is a staggering number and most of this damage is caused by subterranean termites since they are the most common termite species in the United States.
With all this data, it is safe to say that these termites are a nuisance that homeowners would want to get rid of. In that case, subterranean termite treatment might be your solution.
Subterranean Termites - Everything You Need to Know
Social Nature
Termites are social creatures and they create colonies near their possible food source (our homes). They have a queen who is responsible for reproduction and the other members of the colony contribute either as workers or soldiers. The workers are in charge of the food while the soldiers safeguard and warn the colony of potential threats. When it is time to start new colonies, reproductive termites (that have wings) are sent out for the job. And just like that a new colony is formed.
Reproductive Nature
Subterranean termites are known to proliferate fast compared to other species. Unless you opt for effective subterranean termite treatment, the colonies will expand exponentially and might even spread to several places within the structure.
Habitat
We already know that these little critters love to munch on wood or anything with cellulose. These termites usually have constant contact with the soil since they need moisture to survive.
Subterranean termites do not fare well in dry environments thus making wet and humid places a target for these pests. If you want to avoid a subterranean termite infestation in your home, make sure to fix all leakages and aim to keep your house moisture-free.
Also Read: 4 Big Risks of DIY Termite Control
Identification
Subterranean termites are extremely hard to spot. You might come across the workers in case of severe termite damage. Here are some of the features of these termites that might help you identify these little buggers in case you try to find them.
Light/cream colored
1/8 to 1 inch in length
Soldiers have large heads that are dark in color
Two straight antennae
Reproductive termites have wings while others do not
Six legs
If you ever spot something that you suspect to be termites, then it is best to contact a professional termite control company immediately.
Problems Caused by Subterranean Termites
Subterranean termites are the most destructive species of termites in the United States. These unwelcome guests can munch on anything that is made of wood causing some serious damage to the house if left unchecked. Here are some of the common problems faced by homeowners due to subterranean termite infestation.
Damage to Foundation
Subterranean termites usually build their colonies underground and thus can cause damage to the foundation of the structure.
They cannot damage the foundations that are made of brick or concrete but can access your home through even the tiny cracks in the foundation. They can also access the wood near the foundation which causes indirect damage to the foundation.
When you have a subterranean termite infestation, know that any wood that is in contact with the soil or near the ground is not safe. Damages to the foundation, in the long run, can affect the structural integrity and can even make the property unfit to live in.
Damage to Decks
Another part of the structure that usually has contact with the soil is the deck. The subterranean termites will start to eat away the deck on the inside while the outer portion may seem unaffected. Soon, the wood might become brittle or in some cases may even give in when people walk on it.
Also Read: Tips to Save Your Books from Termites - Termite Control & Prevention
Structural Damage
This is the most dangerous form of damage that could be done by subterranean termites. When severe infestation is left unattended, the termites will start to attack the important elements of the house like the support beams, roof supports, ceiling joists and posts.
The result might be ugly with sagging ceilings, failing supports and more. It is only a matter of time before the house collapses.
Damage to Wood
Termites do not sleep and they eat non-stop. Once they infest a structure, they will feast on anything made of wood. It might be your furniture, your subflooring, your interior wood or even the mulch. Hence, it becomes important to take care of any moisture in the house and also to get rid of wood that is not immediately useful.
Treatment for Subterranean Termites
There is only one way to get rid of these little yet destructive opponents - termite prevention. Schedule regular termite inspections that will help identify the termite problem in the bud and get rid of it. Know about the options we provide in subterranean termite treatment here.