How to Get Rid of Wood Boring Beetles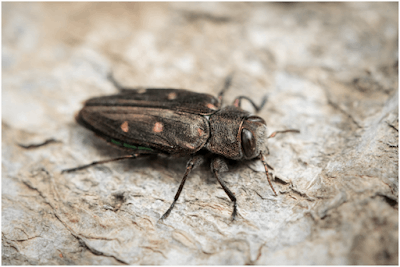 Besides termites, treating beetles is an equally important task for homeowners as the more they are around, the more damages they will inflict. A reputable termite control company can help you treat beetles with fumigation services.
How to Eliminate Beetles in Your Home
Beetles of different species infest homes. For example, you may find cigarette beetle or drug store beetle in stored goods, or certain types of wood-boring beetles that can cause structural damage to your home.
Getting rid of beetles from stored goods is more about prevention than treatment. The Pennsylvania State University has a fact sheet on cigarette beetles with useful instructions that work for other types of food-infesting beetles too.
According to the fact sheet, preventing and excluding beetles are the major ways to control cigarette beetles at home. It also suggests recognizing and destroying infested materials.
Exclusion is a crucial way to limit the exposure of commodities, which are prone to infestation. Keep kitchen items in sealed hard plastic containers, including food items such as cookies and cake mixes, which beetles can infest without any outward signs of the attack.
When it comes to treating wood-boring beetles, or termites, the approach will be different. The Department of Entomology once published a fact sheet the Clemson University, which outlines various options for controlling beetles. Learning about exactly which type of beetles have got into your home is crucial to decide how to eliminate them.
If you notice fresh wood powder around the holes in wooden stuff, a chemical treatment is necessary. Amid the infestation of wood-boring beetles, treating several spots can be a good idea. This treatment will help in controlling the moisture in wooden furniture, freezing, and chemical treatment.
Remember that only certified pest control companies could use most chemicals available for treating wood-boring beetles. Instead of trying DIY, it would be ideal that you consult a leading termite or pest control firm that can take care of the matter with efficient fumigation services.
How to Treat Beetles in Your Yard
More often than not beetles cause a problem in your landscaping, rather than your home. There are various species of bark beetles, which pose a major challenge for homeowners in the US. These beetle species lay eggs on the bark layer of trees.
A few common methods of controlling these beetles include removing infested trees, pruning,and treating nearby trees and soil with insecticides or fumigation services to prevent an infestation.
If you notice borer beetles, powder post beetles, other common beetles or termites, a pest/termite control firm can use gas or fumigation, which is lethal for these insects.
Sometimes you need to cut part of trees in your yard and quickly remove or burn infested materials to prevent a large number of beetles from coming out and kill the nearby trees. Avoid piling up infested material close to a live tree or shrub.
Termite experts can treat your home and yard for beetles/termites in the way following ways:
Spray through the crevices and cracks in various parts of your home
Corners of the rooms.
Fumigate around the frames of doors and windows.
The area where the flooring and the wall interjects.
Below and around appliances and furniture.
The entry points of utility supplies as well as pipes.
The pest control firm needs to keep spraying through cracks and crevices in the rooms. They usually repeat the process within the span of a week or more if required.
Before We Go
If you think your home and yard are under a serious beetle or termite attack, it is best to call a professional pest control company. If you live in and around the Bay Area in California, we can help you right away.
At HI TECH Termite, we apply the most advanced fumigation services and state-of-the-art Microwave Technology to eliminate beetles, dry wood, or subterranean termites. We are a licensed service provider to use insecticides for beetles and termites, which are not available to homeowners. We would make sure that you live peacefully without any disruption from these insects after the treatment
Call us right away at (888) 322-8889 or write to us at info@hitechtermite.com, and we will be glad to help you.