Identifying and Controlling Subterranean Termites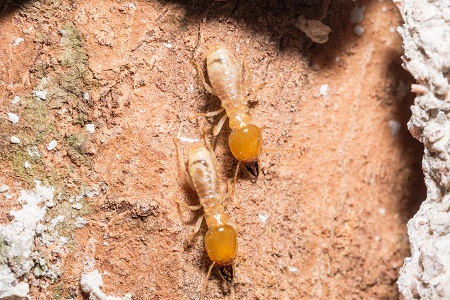 Termites are never welcome in our homes but subterranean termites are the worst. Subterranean termites are known to be the most destructive termite species since they cause maximum damage to the structure compared to other termites. Without termite control and termite prevention treatments, your home will soon be food for termites.
To safeguard your home from these dangerous pests, it is better to be vigilant. When you notice signs of termite problems, you should contact a professional termite company and let them do the inspection. A proper subterranean termite treatment can help get rid of these termites.
Identifying Subterranean Termites
Subterranean termites look similar to ants at first glance but these termites usually have long and straight bodies along with straight antennae. Wings are common among both ants and termites but for termites, they are of the same size. The body and color of the termites might differ according to their position in the termite colony.
Also Read: Can Termites Damage Gold and Other Expensive Items?
Subterranean termites love dark places and this makes it almost impossible to spot them. Though you might not encounter the termites themselves, you can easily spot the traces that they leave behind if you look close enough.
Here are some signs of subterranean termite activity on your property.
Mud Tubes: These are usually found on the exterior of the property and are most often the first signs. These tubes are made from soil, wood and termite feces. The termites use these mud tubes to travel safely from their colony to food sources.
Soft and Hollow Wood: Termites like to devour anything that has cellulose and hence wood is their main food source. When the termites start to eat away the wood, the wood becomes soft. The termites usually eat from the inside leaving the outer layer of wood intact. If you notice pin-sized holes in the wood, then try tapping the wood gently. If you hear a hollow sound, then know that the termites are silently eating away the wood.
Tunnel-Like Patterns on Wood: When termites eat wood, they tend to create tunnel-like patterns. When you hear a hollow sound while tapping a wooden structure, you can peel away the top layer to check. If you notice any of these patterns, it is time to call a termite company without delay.
Flying Termites: You just cannot ignore this obvious sign of termites. Termites swarm when they need to create a new colony. Though the swarmers do not cause you any harm, it is a sign of termites being active in your property, or worse, a sign of future infestation.
If you notice even one of these signs, call the termite control company immediately. A termite inspector will be sent to your property to identify the termite colony. The termite inspector will know the right places to look into and will also easily identify the type of termites infesting your property.
Controlling Subterranean Termites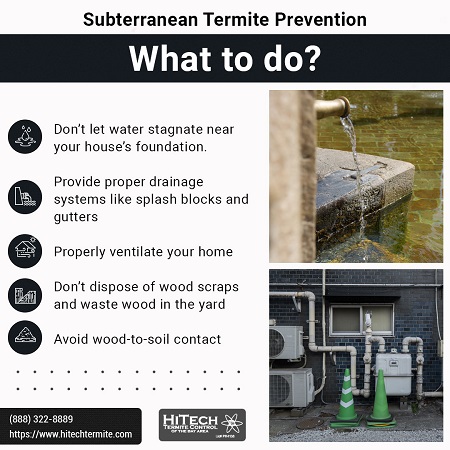 After the termite inspection, you will know whether your property is home to these little pests. If no termites are identified, thank your lucky stars and get a termite prevention plan for your property.
But, if a termite colony or termite damage is identified, then you might want to move towards termite control methods. There are various subterranean termite treatments available and the termite exterminator will suggest a suitable method depending on the type and scale of infestation.
After the subterranean termite treatment, it is still important to implement the termite prevention plan to avoid future risks. Also, make sure that you schedule yearly termite inspections to put a rest to your fears of these pests coming back. Annual termite inspection and prevention will cost you much less when compared to the money you will have to spend on termite damage due to severe infestation.
Also Read: Why Do DIY Termite Treatments Fail?
HiTech Termite Control
Your property is too precious to serve as a food source for these nasty pests. Always keep your eyes open for signs of termite infestation and also schedule regular termite inspections. If you suspect a termite infestation in your home, book a free termite inspection with us.